Why do I find Disneyland completely enchanting and mesmerizing, and even enjoy Bass Outdoor World, but get the creeps at Chuck E Cheese?
I know I'm getting a dose of how people who hate Disneyland feel. They call it fake, cynical, expensive, and I can abundantly agree about this other large rodent and his very loud birthday parties.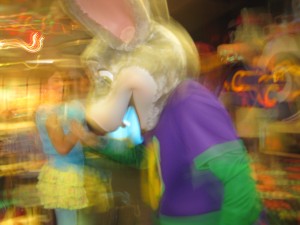 However one person who does not harbor any ill feeling about Chuck E Cheese is the one who matters most this week, our newly 6-year-old girl. She feels that Chuck E sets the standard for premium, luxury children's goods, and it's all she wanted for her birthday. I was going to bring a fancier cake. "No! Chuck E Cheese has the very best cake there is!" The cake was fine, but the marketing is genius, essentially a pyramid scheme for the very young.
"Thanks," one of the dads told me in class on Tuesday, "we went back Memorial Day for pizza there. The kids wouldn't go anywhere else." You're welcome, suckers! We got invited to one of these things, the kids drank the kool aid, and now all you other parents can deal with it too. 
I do wish I loved Chuck E. Mickey Mouse can sell me just about anything, and I'm grateful for it. I carry his credit card in my wallet, earning points. I smile at the memory of all the long lines I've stood in at Disneyland. You might be rolling your eyes or banging your head on the screen as you read it, but I do.
I will say birthday at Chuck E's, beyond the loud music, is pretty painless. You show up, the kids get coins for the arcade, the kids go berserk. There's pizza and cake, and then more berserk. "This is like training for Vegas" one mom said.
But it's hard to stay cynical when the kids' joy is so intense and pure. She loved, loved, loved her Chuck E Cheese birthday party. And I guess for that, I love Chuck E just a little bit too.