We had a lovely Thanksgiving visit with Grandpa Ted and Grandma Mary, packed with adventure. We joined 40,000 in a downpour for the Austin "Turkey Trott," the one mile kid version, raising funds for local housing and food services. The kids dug for genuine Texas dinosaur bone casts buried beneath a giant sand pit at the Nature and Science Center. We went to church and I visited with people I've known since I was 6 years old. We saw the Austin Zoo, a laid-back rescue presided over by wild peacocks, housing many exotic animals, and a very hungry horde of goats and llamas ready to chow down on the sold-in-the-office feed. We had a beautiful Thanksgiving by the lake, and my kids even jumped in to show those Texans what real aquatic courage looks like. Take that, Texas wimps. (There's a sentence I thought I'd never be able to write, and it feels very, very sweet.)
In what should have been the grand finale, it was that Grandpa got the kids tickets to "fly" in a giant wind-tunnel. Jaden took one look and suddenly one ticket was mine! The roar of the air in our flight suits was wild, and we did, truly, fly: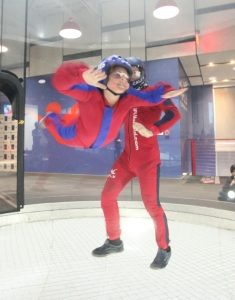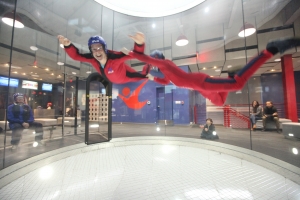 After the mortals tried it, our super-fit instructor did these crazy loops and flips, flying 25 feet up in the air and zooming back down with amazing control. It was gymnastics without the rings or props; if the phenomenon takes off, there will be a whole other stop for the snowboarders, canoe trip leaders, and snorkeling instructors of the world.
I couldn't leave well enough alone, however. I wanted one more grand finale.
Dad and Mary have been married to each other for 25 years this week, which is longer than they were married to my mom and my step brother Rick's dad, who both died of cancer within a few years of each other. This suggests that my childhood was a very, very long time ago.
I was determined to revisit a thrilling spot from this childhood, the all-you-can-eat Catfish Parlour. This place was way out 183, which in the 1970s was a country highway, more in the woods than in civilization. Today it sits right next to at least 8 lanes of highway traffic, smack in the middle of the endless Austin sprawl. It's easy to miss.
Jaden had been crazed all day, and truthfully he was giving us signs that he was near collapse most of the day. But I really wanted the kids to have—and love—some of the hush puppies of my youth. The inside of the place is so much like it was 40 years ago it's unbelievable.  Same office-like dropped ceiling with fluorescent lights. Same gray greenbeans, cooked and cooked into a southern mash. Perhaps some of the homey Burma Shave signs around the walls have been dusted, but I doubt it.
Needless to say, after a tiny bite, neither kid would touch the beloved hush puppies. I pushed harder, trying to sell the kids on nostalgia, but Jaden was not having it. He's energetic much of the time, but will usually focus for food. Not this night. He just got wilder and more agitated. He didn't want to order anything, and fell out of his chair several times.
Finally, probably later than I should have (but as it turns out just in time), I dragged him outside, wailing and screaming. Two feet outside the front door, out it comes. Barf! Oh! Yikes, the poor guy really wasn't feeling so well. After spraying me and the parking lot all the way to the car, he seemed to feel better. It was like an exorcism that actually worked; he was suddenly himself again.
But I'd lost my appetite, and neither of us was in any state to go back inside.
Lesson learned: I can visit Austin all I like, and it's a blast. But I really can't go home again.