As we drove to San Francisco city hall to get hitched yesterday, Jay was startled to see a billboard for the AVA apartments on 9th Street. And flabbergasted this morning to see an ad for Avah perfume in the Times. It's not a common name to see in print—at least we thought it wasn't—and we'd just signed paperwork giving our son the middle name Avram, after Jay's mom Avah. (By Jewish tradition you give children a Hebrew name with the same initial as the honoree, at least that's my Jewish-by-marriage understanding of it.)
His emotional response was a reminder that while we're deeply blessed with fathers and a step-mom cheering on our marriage and adoptions, there's a deep pang that our mothers, Avah and Ruth, didn't live to see us legally wed, or meet their grandchildren. I suspect they'd both be especially pleased, after raising two boys and being the only females in their households for decades, to see a little girl shedding sparkles from her spin-around dress onto everyone present, giving it a little bit of burning man right there in city hall.
It's amazing after more than 20 years the intensity of how I still miss mom at unexpected moments. More now that I'm a parent, wishing she could weigh in on potty training, or discipline, or some random thing. I know her answer would be to not take it so seriously, to make the best decision and then have a laugh at the absurdity of all the advice and angst. In that way she's as present as those billboards, but still a hit of the real thing would mean so much.
Thinking about our families, it's funny how "traditional" our wedding has been, in the sense of following family traditions. Jay's parents were agnostic, perhaps atheistic, Jews: hostile to religion but faithful with passover meals and latkes at Channuka, Jay deeply coveting Christmas bling. My parents took us to church nearly weekly, but while our Church was (and is still for my dad and stepmom) a keystone of our family life, early on my mom explained they'd "shopped around for the denomination we liked best," and were taking us "just in case, so you boys can make up your own minds." I don't know if her comment reflects her own agnosticism or a phase I was going through when we had the conversation. That's another thing I'd love to ask her.
So our nontraditional, eclectic approach matched our upbringing.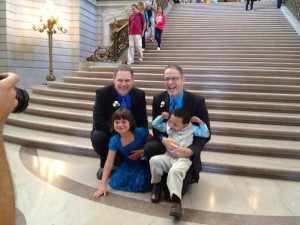 We didn't marry toward the start of our relationship, but after establishing a home and getting kids, though in part because it wasn't legal (or was only sorta-kinda legal in our state, and frankly would have caused tax nightmares).
We compromised on a low-key City Hall wedding with just a few friends, and then a party later to celebrate our union and our kids' adoptions. (Yes, one of us initially pictured a big white wedding with the full Bridezilla… OK, it was me).
I wore something borrowed (thank you Mark), something blue, something old, and something new, though this didn't include a garter and I don't know where that tradition even comes from.
We broke a glass after the ceremony, because as Interfaith Family website explains "If you are having a Jewish wedding, you probably have to break a glass. You can forgo almost every other element, but if you don't break glass, folks will not believe you are really married." (It's funny, but the officiant at city hall said a similar thing, as he gave us a pretty certificate. "This isn't your real marriage licence, you have to apply for that and pay another fee. But I guarantee you if you show it to someone who's skeptical they'll then believe you're married." Magic.)
So our mixed up, this-n-that spiritual lives are something we're handing down to the next generation. Our families are deeply with us and in us, either heading to California for the party next month, or shining down from the billboards above.  And that means everything.