The "season of marriage and adoption" has been incredible. I was shocked and thrilled when the New York Times ran our wedding announcement, and then the San Francisco Chronicle ran a beautiful story about our relationship, the adoptions and marriage. And with everyone giving us their blessings, I've felt so much love coming in from friends and family. It's been a wonderful plenty.
Interestingly, I keep having flashbacks to my childhood. I realize that this attention reminds me of how great it felt as a kid to start to achieve things in the eyes of others: good grades, fun art projects, winning essay contests. (Did I ever tell you my anthem to the tune of "Roll on Columbia Roll On" was chosen as the Pecan Springs Elementary School official song?)
The sweetest of these memories are from late elementary school through pre-pubescence. Because I realize that as I became a high schooler and young adult, while I continued to be praised and rewarded, increasingly I was holding something back, afraid people would not be so thrilled if they really knew me completely. I don't even know if that's true—there were certainly homophobes to whom it might have been dangerous to disclose my love life, yet my experience with friends was that they accepted me and loved me as I was. But looking back, I can feel a shadow of caution and fear crept into my perception of how people saw me, and I felt somehow less authentic and at ease, even as most of my life was very lucky and happy.
I realize now that we've all got at least a little fear that if people really saw us for who we are they'd be horrified. It's not a gay thing, it's a human thing, a fear of exposing our true selves. A deep longing to show our true selves.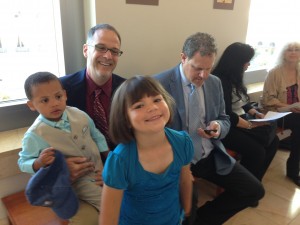 So here I am basking in love for making a family with my husband Jay. The courts have granted us custody of our children. I'm no longer under any requirement to protect their identity (though I still feel a reflex to protect their privacy). But I can tell you their names are Jaden and Shayla, or you can read it in the paper!
Maybe it's time to let some of my shielding go, and deeply accept the love everyone is offering. Maybe in my work, and my parenting, and my whole life, I can be a bit more fully myself. I didn't really think I was hiding that much, but as I step forward more and more, I can't tell you how different it is.