As a somewhat introverted person, my different roles sometimes feel like parallel lives. I'm a father, a son, a husband. A web producer, geek, proud member of the PTA. I'm a gay man, a political moderate (not easy!) and have my level 2 Reiki certification.
But perhaps my most solitary, private role is reader. Absorbed in a book, I have a completely vivid, sort of secret life going on.
Often this is a pleasant diversion. Wacky, rafish troubles with a British accent (Nick Hornby), or hyperreal, slow motion life, brainier than mine (Joan Didion or Ian McEwan). Girl or Boy trouble (too many to count), the occasional mystery.
Then there are the once-in-a-lifetime reads. I loved the weeks in 2009 I spent as a Golden Retriever, thanks to Garth Stein's remarkable The Art of Racing in the Rain, sent to me—I swear this is true—by someone I'd never met who liked the dog photos on my website.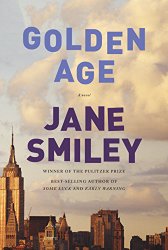 Towards the end of 2015 I had a experience rare in my reading life. I was derailed by a book. It was the third novel in Jane Smiley's Hundred Years trilogy, The Golden Age. You can't start there, Some Luck and Early Warning are the first two books. Each chapter is set in one year, starting in 1920. Smiley's a vivid, powerful writer. Her prose is plain, but reverberates deeply. I liked the books, tracing a family branching out from an immigrant farming life, toward the coasts, into the nooks and crannies of American life. There were dark bits, heartfelt. Humor. Life trauma.
But then the last chapters, from the present into 2019, get so dark I'd have to describe them as apocalyptic. I wish I could say I just didn't enjoy it. If they hadn't been believable, or rooted in truth… but instead I found myself absolutely hating being in this (novel's) world, but afraid that she might be right.
Don't get me wrong. I love sad books, hard books, a good catharsis. "Three hanky" is a compliment. But the last of Smiley's trilogy shook me, chilled me. Is it too late for planet earth? Do our children have only hardship ahead? I can't claim this is her thesis, but it's the space her books left me in. I despaired for the life my kids might have.
Perhaps you're thinking, "he only now realizes how bad things are?" But I think I'm pretty clear headed about our troubles. There is so much that needs to be healed. I just require some measure of hope for redemption to keep myself going.
Anyway, the rest of my life went on, 2015 turned to 2016, but my reading life was in a dark shadow. I didn't read much, and didn't enjoy what I did read. The Portable Veblen, which I could tell was a funny book (and I'm sure the best romantic drama involving a squirrel and mental illness ever written), left me flat. I had to abandon a Kate Atkinson book. At least in my literature life, things were dire.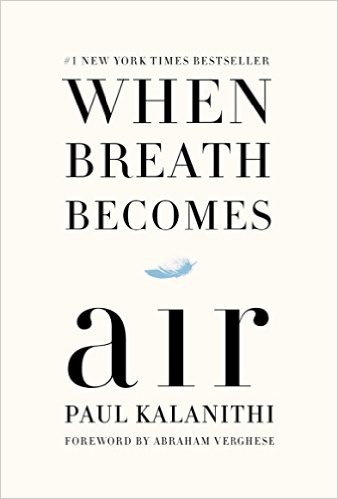 Dire enough that last week I decided to try Paul Kalanithi's When Breath Becomes Air. It got a great review in the New York Times, but since becoming a dad I've pretty strenuously avoided some topics. Parents dying and leaving behind young children is at the top of the list. It's my absolute worst fear.
But there's something about this neurosurgeon's losing battle with cancer that is a joy to read. Kalanithi grabbed me from the first paragraph, his writing so alive and surprising. What makes life worth living, he asks himself, as he unsparingly reviews his many years of future-oriented work. He had a 40 year plan (and no doubt could have done amazing things with it).
Yet when his initial treatment begins working and there's some hope for a return to his old life, the unknown is worse than more-certain death. Perhaps you have to have faced a lifethreatening disease to recognize that the prospect of an uncertain cure can be weirder and worse than no hope at all. "The monolithic uncertainty of my future was deadening," he writes. If he had a month, he'd know what to do with it, what his priorities would be. He'd also know what he wanted to do if he had a year, or 10. But in each scenario they'd be different. If you can't know, how can you decide what's most important?
Of course, the truth is that none of us can know how much time we have. We have to get up in the morning and move forward anyway, even if the worst may be true. Despite the tragic center of the book, it has a quiet, thoughtful intelligence and bravery that warmed me with hope. It's no spoiler to say Paul didn't get his 40 year career. But I was touched and heartened by his journey. The time he has he makes remarkable use of. It was a 3 hankie book, and it lifted my funk.
We're a species who need meaning, and I for one am grateful for those who dive for it. As long as there are books like this one, I want to be here to read them.