I've been shocked by how changed I feel. I'm living with the same guy and kids, in the same place, same work, same dog, same cat. But a wedding, two adoptions, and a bridezilla reception has really changed how I feel in my life.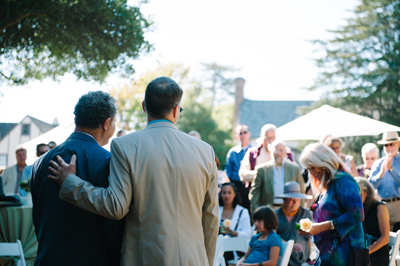 The power of ceremonies and traditions shouldn't surprise me; there's a reason people do these things again and again, generation after generation. But I was unprepared to feel so much more married after our adoption/wedding celebration.
It was fantastic to be toasted (and roasted) by family and friends. Jay's dad and my dad stood up before those assembled and called the other one of us a "good catch." Neighbors celebrated the kids. All day, all week, our family was supported and noticed and loved.
My friend Kenny read a David Whyte poem "Truelove" (chosen by his brilliant partner Paul):
There is a faith in loving fiercely
the one who is rightfully yours,
especially if you have
waited years and especially
if part of you never believed
you could deserve this
loved and beckoning hand
held out to you this way.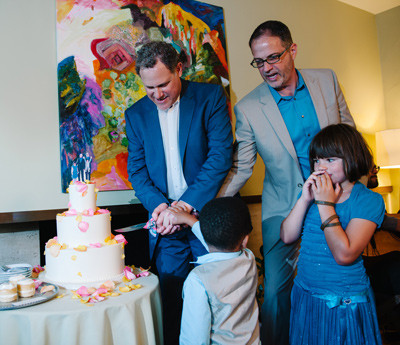 Wow, right? I'm not the greatest at being the center of attention, but I tried hard to stay present. You could say I'd been in training for a couple weeks, hoping I could be there and take in all the love, not miss this celebration in a blur.
Probably more than ever in my life, I managed to do it. It was a fantastic party.
And the good news kept coming. The court papers and legal documents with the kids new names—my name, now theirs!—came in the mail. I kept hearing the judge say "these are your children and you are their parents."
I wasn't able to write about it. It was just too much great stuff.
It has me thinking about a friend's wish that we transition from a culture that connects over disaster or stress to one that connects about joy. It's harder for me to write about this than it was to write about our brand new foster daughter throwing the cat off the balcony. But I don't want it to be. I want to be more dedicated to feeling the love that's on offer, getting my charge from the positive energy that's all around me.
For over a month the world has gone out of its way to give me everything I've been working and hoping for. Everything I've wanted. And I plan to be grateful. And I plan to be joyful. And I plan to say "I do."